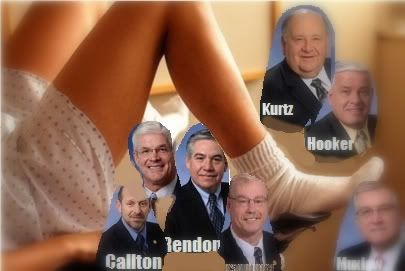 Update 6/14/2012: The state House passed a version of this bill 70 to 39 on June 13. 
The State of Michigan is considering one of the most restrictive abortion laws in the nation: House Bill No. 5711. It could effectively ban the procedure in Michigan.
The bill was introduced by Rep. Bruce Rendon on May 31, 2012. The House Committee on Health Policy passed it just a week later, on June 7, after a brief hearing with little testimony. It sent the bill on to the full House for a second reading, a step closer to passage, by the following vote:
Yeas: Reps. Gail Haines (chair), Mike Callton, Paul Opsommer, Kenneth Kurtz, Wayne Schmidt, Mike Shirkey, Thomas Hooker, Matt Huuki, Paul Muxlow, Ken Yonker, Holly Hughes, Joseph Graves, and Lesia Liss. All Republicans.
Nays: Reps. Thomas Stallworth, Kate Segal, Jimmy Womack, Marcia Hovey-Wright, and Tim Greimel. All Democrats.
 I encourage you to read the bill (full text here) and form your own opinions. I did, and here are mine.
First, consider the following section of the bill:
Sec. 16221. The department may investigate activities related to the practice of a health profession. The department may hold hearings, administer oaths, and order the taking of relevant testimony to be taken [btw, should we allow people who can't even form proper English sentence structure to make these types of major life-altering decisions for us?]  and shall report its findings to the appropriate disciplinary subcommittee. The disciplinary subcommittee shall proceed… if it finds that 1 or more of the following grounds exist…
This is followed by a list of those actions considered grounds for investigation. One of them is: 
(vi) Lack of good moral character.
Really? Seems like an awfully vague criterion for setting a disciplinary subcommittee investigation into motion. Lack of good moral character, huh? Wonder what blood test can be administered to check for that. But let's say this disciplinary subcommittee does use their collective and objective wisdom and decides a medical practitioner lacks good moral character. Then what happens? Under the proposed legislation:
After finding the existence of 1 or more of the grounds for disciplinary subcommittee action listed in section 16221, a disciplinary subcommittee shall impose 1 or more of the following sanctions for each violation:  Probation, limitation, denial, suspension, revocation, restitution, community service, or fine.
I am very uncomfortable thinking such a panel could revoke the medical licenses of practicing physicians based on the vague and subjective criteria proposed in this bill.
The proposed legislation would also require doctors to "Provide the patient with a physical copy of a medically accurate depiction, illustration, or photograph and description of a fetus… at the gestational age nearest the probable gestational age of the patient's fetus," and a parenting information pamphlet to consider at least 24 hours prior to her abortion procedure. Because you know how impulsive females are; pass a tattoo parlor, stop in and get a tattoo. Pass a Planned Parenthood and gee, think I'll pop in and get an abortion.
Not offended yet? The bill would also require your doctor to ask you if your "husband, parents, siblings, relatives, or employer, the father or putative father of the fetus, the parents of the father or putative father of the fetus, or any other individual has engaged in coercion…" (i.e., said or done anything to talk you into your decision). Your response would be documented and you could then be denied access to the procedure, based on your response.
And hey, want a souvenir? "The physician or qualified person… shall provide the patient with the opportunity to view or decline to view an active ultrasound image of the fetus, and offer to provide the patient with a physical picture of the ultrasound image of the fetus before the performance of the abortion."
That is psychological torture.
You may believe differently, but whatever your stance on abortion, is there any woman anywhere who thinks it's a good idea to have a government-appointed panel regulating medical ethics? Consider the following quote:
"It will be necessary to open special institutions for abortions and doctors must be able to help out there in case there is any question of this being a breach of their professional ethics."
That's not from the proposed Michigan legislation. It's from Adolf Hitler. He wanted control over women's choices, too.
Abortion legislation causes a political rift capable of hijacking women's autonomy. I believe opting to have an abortion is the most heart-wrenching and terrible decision a person has to make. If public discussions about abortion are partisan and political instead of fact-based and earnest, we're really just letting mostly rich, mostly white and mostly male legislators make decisions for us. Not on our behalf. FOR us.
For me, it's simple. The person most qualified to decide whether to have an abortion is the person most affected: the woman, of course. Why would I think some gray-haired guy in the Senate or House could have some better inside information than I do, right here in my own heart and body? The same goes for you: logically, statistically, you have the most and best information you need to make the decision. Whatever you choose is your decision, just as I'd like to keep it mine. And if our opinions are different, I'm willing to talk about it. But when it comes to those white-haired dudes in the House, I'm pretty sure they're not really listening.
The bottom line is, when it comes to your reproductive rights, why would you ever give them away? What you believe is just that: your personal belief. Your choice. Please use your voice to secure your choice; don't give it away.
– Jane Pennington