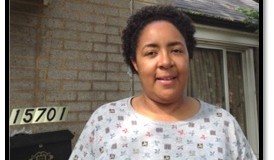 The details are still being worked out, but government-sponsored financial giant Fannie Mae is close to an agreement with Jennifer Britt that would end her six-year struggle to keep her family's house.
After a long, hot summer, Britt's friends and supporters relaxed at a picnic with their families Saturday on Belle Isle. "I've been up and down and up so many times," Britt said, "I had no choice but to be patient."
A week ago, a coalition of eviction-defense groups working as Occupy Detroit Eviction Defense announced an agreement with Fannie Mae that would let Britt buy her Rosedale Park house from Fannie Mae through an arrangement that involved several organizations. The announcement was premature, but not by much.
Her attorney, Joe McGuire, said negotiations continue, and no arrangements are final until all documents are signed. At Saturday's picnic, Britt said she hopes to close within days.
Meanwhile, Britt is part of an effort to organize neighborhood groups like Grandmont-Rosedale as Neighbors United Network. She and Miriam Pickens have reached out to 47 groups within Detroit. "It's Jennifer's determination that's driving this," Pickens said.
The Grandmont-Rosedale Development Corp. supported Jennifer during her eviction defense and has been collecting money to help with any costs she faces in the agreement. GRDC is a 501c3 (exempt from taxes) nonprofit organization focused on saving and improving the two neighborhoods. It renovates abandoned homes, helps people buy them, and encourages neighbors to work together.
The last and longest of many protests in Britt's case was a month-long vigil at her house, where people stood guard to prevent a truck from entering and unloading a dumpster. Once a dumpster is in place, crews carry out an eviction order by gathering and hastily tossing all of a family's possessions.
The vigil ended after Fannie Mae agreed to continue negotiations with Britt instead of insisting on an initial offer that would let Britt rent her house for two years and then kick her out.
Jennifer Britt's support came from many sources along with Occupy Detroit Eviction Defense. Her neighbors joined pickets. Some went door-to-door enlisting every neighbor they could. UAW Local 600 lent its strength. Britt's late husband was a member. Members of UAW Local 140′s social-justice committee and the associated Metro AFL-CIO group Jobs With Justice contributed people and spread the word throughout the labor movement.
Moratorium NOW! and BAMN also shared duties, as did People Before Banks, which plays a central role in bringing in other participants and keeping people and groups in the coalition up-to-date.
But, Babson said, "We still call ourselves Occupy Detroit Eviction Defense. We see" ODED "as a big tent. We welcome others. We were glad to have a lot of younger folks. It was really inspiring."
All did plenty of work on many fronts, including highly visible pickets, demonstrations and marches at Flagstar Bank and government offices, relentless phone calls to Fannie Mae, and neighborhood rallies which drew figures including state Rep. Hansen Clarke. Clarke, who lost his seat in the August primary as a result of redistricting, is a longtime supporter of a moratorium on foreclosures and evictions.
Pressure from Clarke and Michigan Sens. Debbie Stabenow and Carl Levin helped convince very reluctant Fannie Mae to negotiate with Britt. Britt's supporters brought her case to the senators' attention with a rally outside their offices in the McNamara Federal Building.
Britt's supporters are asking for contributions of any amount. Please make checks payable to Grandmont-Rosedale Development Corp. write "down-payment grant for Jennifer Britt" on the memo line to. Mail to: Friends of Jennifer, P.O. Box 15655, Detroit, MI 48215. 
This post will be updated as more information comes in.
–Janet Braunstein